CMS5000 VOC Monitor
Utility Monitoring
CMS5000 VOC Monitor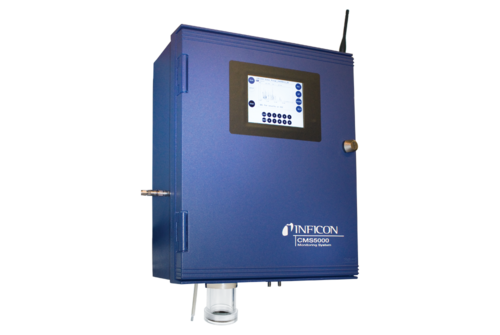 Product configurator
Gemini™ MxG5xx
Flange connection to vacuum chamber
Your configuration has been successfully sent!
Clean water is essential for life. As more chemicals are introduced to the environment, adverse consequences to water quality and corresponding health impacts will increase as well. In order to provide the highest level of safety and security, a fast response to water quality issues is necessary.

The CMS5000 is a GC-based system that autonomously samples VOCs in water, quantifies contaminant levels and automatically alerts users if thresholds are exceeded.
Advantages
Saves labor and money with autonomous testing
Reduces frequency of regular outside lab analysis
Lowest cost of ownership
Less wasted time with limited maintenance and no sample prep
Easy integration and small footprint
Analyzes a wide range of EPA 8260 compounds
Ability to detect VOCs at very low levels (ppt)
Customized methods to suit your specific needs
Typical applications
Drinking water distribution systems
Source water protection
Wastewater discharge compliance
Groundwater remediation
Air quality monitoring
Specifications
Power Requirements
Universal 110-240 V (ac), 200 Watts maximum
Size
in.
cm
16.9 x 32.7 x 10.2
43 x 83 x 26
Temperature
°C
°F
5 to 45
41 to 113
Relative Humidity
5 to 95%
Weight
lb.
kg
55.1
25
Download full specification
Accessories
| | |
| --- | --- |
| Part Number | Description |
| | |
| 070-1223 | 10 μl Syringe, 6 pack |
| 935-734-G1 | Purge Tube Kit |
| 935-375-P1 | Sample Collection Tube |
| 935-212-G1 | Argon Fill Line |
| 930-489-G14 | Standard Column, 30 m, DB-1, 0.32mm id, 4.0 um |
| 935-753-G1 | Tri-Bed Concentrator |
| 071-842 | 19 Compound VOC Mix |
The product is used in the following markets