New ELT3000 PLUS
New ELT3000 PLUS
The next generation of high-speed inline leak testing of battery cells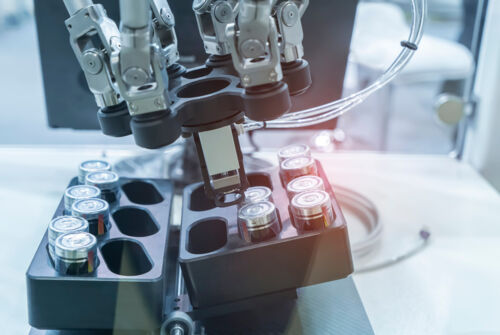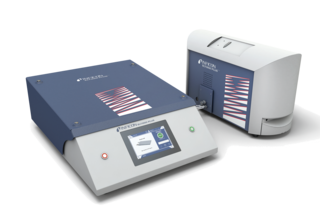 The market for lithium-ion batteries (and other chemistries) is booming. Manufacturing output is increasing from year to year while the e-mobility industry, especially, is asking for ever lower prices for batteries. At the same time, prices for raw materials like lithium or cobalt are increasing and the industry is continuously working on new chemistries. The cost pressure on battery manufacturers is high. However, the e-mobility industry requires the safest batteries possible along with long expected lifetimes. A fast and efficient leak testing process as part of quality control is needed that can cope with the continuously changing chemistries of battery cells and the high speed of production.
Inline leak testing mode for record throughput
The new ELT3000 PLUS is an evolution of the proven ELT3000 electrolyte leak detector and was developed for highest throughput in inline leak testing, without sacrificing on the testing quality. A new inline operation mode allows for much faster testing with significantly improved throughput – a 3X increase or higher.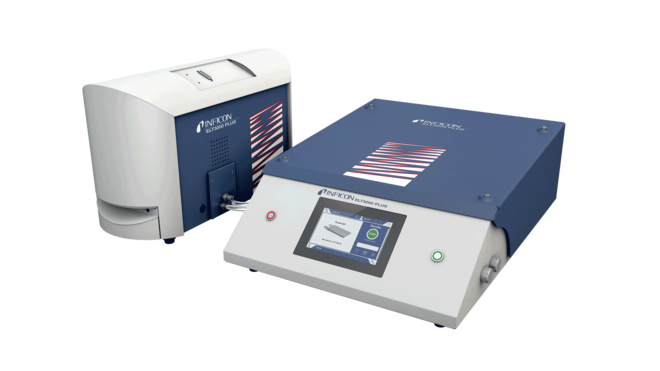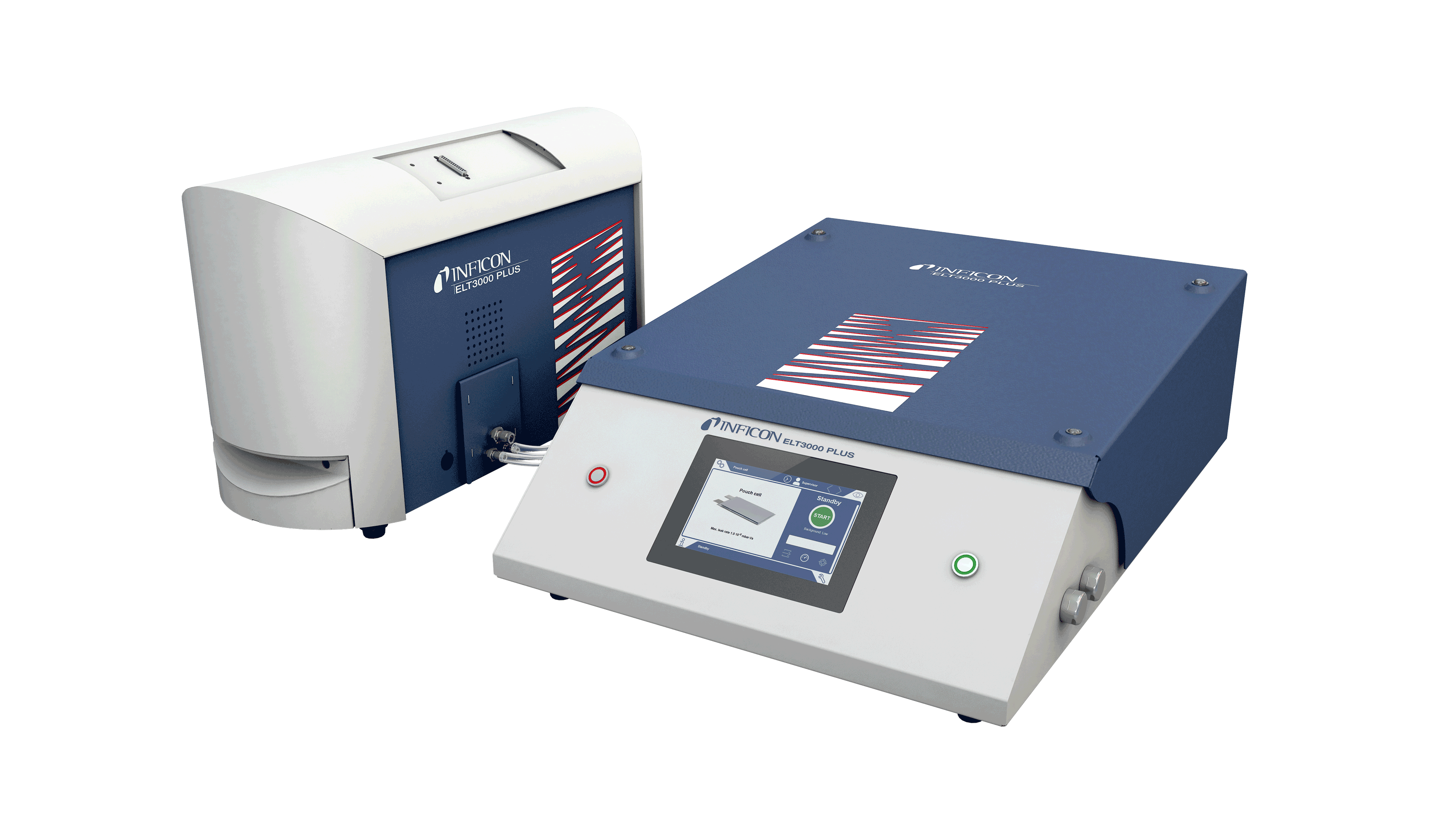 The greatly increased throughput is achieved through a combination of innovations. The measurement sequence of the ELT3000 PLUS has been optimized for inline leak testing, which results in significantly shorter measurement times. The minimum measurement time is now below 10 seconds.
For inline leak testing of battery cells, the ELT3000 PLUS should be integrated into a test system with customized chambers to minimize the free volume of the chamber. Appropriate fore vacuum pumps enable a quick pump down of the chambers. The ELT3000 PLUS can then be used as a detector to leak test battery cells in pre-evacuated chambers. This enables the use of multiple chambers with one ELT3000 PLUS for cascaded testing of battery cells. ELT3000 PLUS is only connected to the test chamber during the actual measurement phase to maximize its utilization. Pre-evacuation and venting of chambers is then controlled by the leak testing system's PLC. In using multiple chambers with one ELT3000 PLUS, cycle times as low as 15 seconds can be achieved.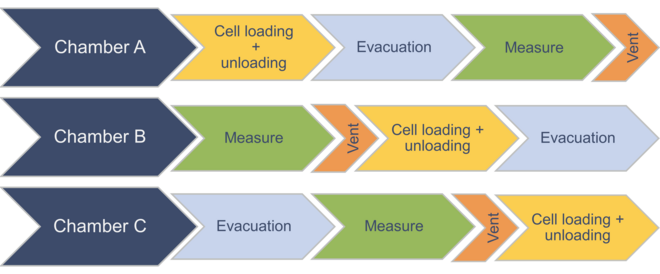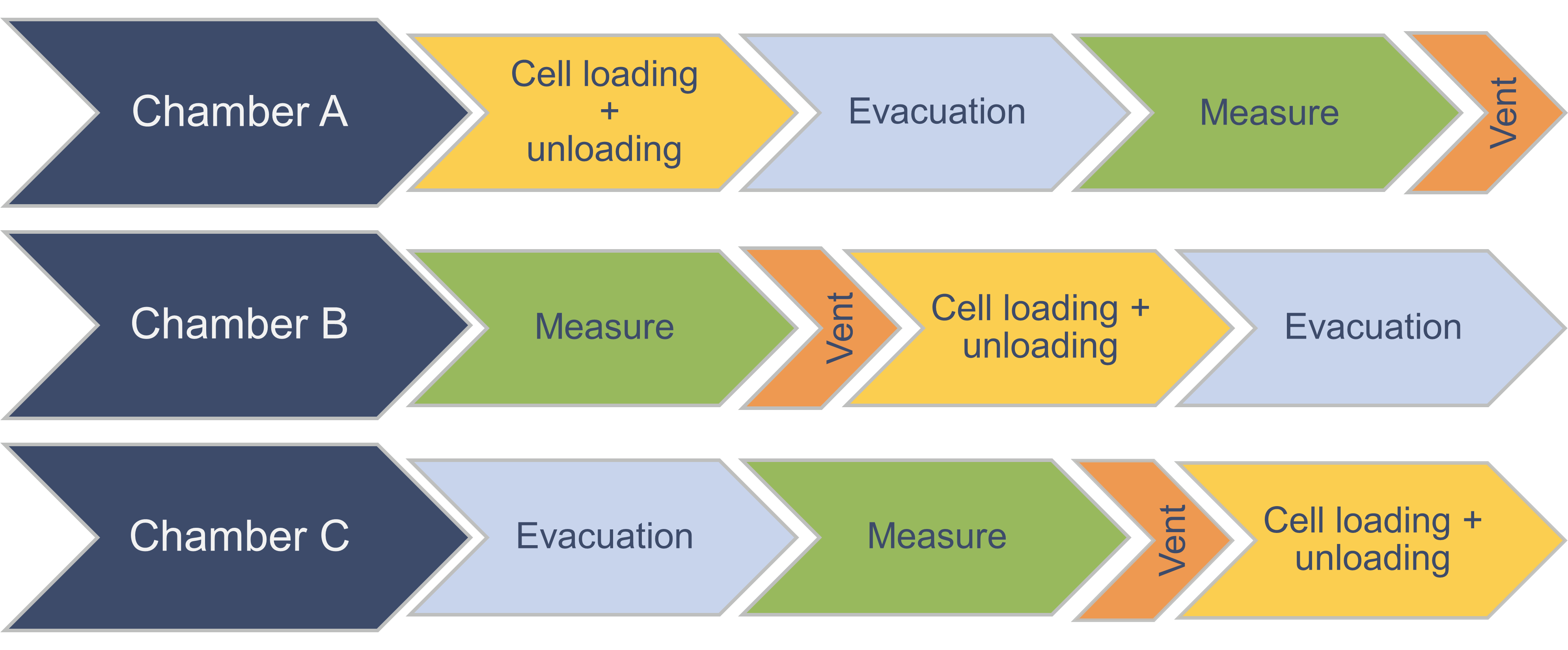 Operating sequence in multi-chamber systems for inline battery leak testing
To avoid downtimes due to contamination, a new gross leak function was implemented. The gross leak function allows for the test to be aborted quickly in case a large leak is foreseen and the release of extended amounts of electrolyte is avoided.
For highest throughput in battery cell leak testing, batch testing a number of battery cells in one chamber is highly recommended. The exact batch size depends on the overall dimensions of each cell, as well as the expected number of defective parts. Our experts can help you in setting up the optimum test process for maximum efficiency.
Integrated leak test systems for inline testing
ELT3000 PLUS comes with numerous interface options – serial interfaces, as well as field bus communication. The interfaces not only allow the control of the standard test sequence, but also test data can be retrieved from the ELT3000 PLUS in real time to be stored in a quality management system.
The inline mode also supports inline calibration of the battery leak testing system without manual interference. A new E-Check connection kit enables the calibration leak to be mounted to the chamber externally. A calibration may then be started by a command from the system control (PLC). At that point, the E-Check is connected to the chamber automatically and an inline calibration is carried out in only about 30 seconds.
Manual operation for engineering departments and pilot production
ELT3000 PLUS can still be used in standalone mode where it behaves exactly like its predecessor the ELT3000. In standalone mode, all functions are controlled by the ELT3000 PLUS. A small selection of off-the-shelf chambers is available for the standalone mode.
Highest quality of leak testing
The unmatched sensitivity of the earlier ELT3000 is slightly improved in ELT3000 PLUS to a smallest detectable leak rate of 5*10-7 mbar·l/s (helium equivalent leak rate measured with DMC for a pressure difference of 1000 mbar vs 5 mbar) for both operating modes.
ELT3000 PLUS is well-suited for all cell formats, regardless of whether it is used in inline mode or in standalone operation.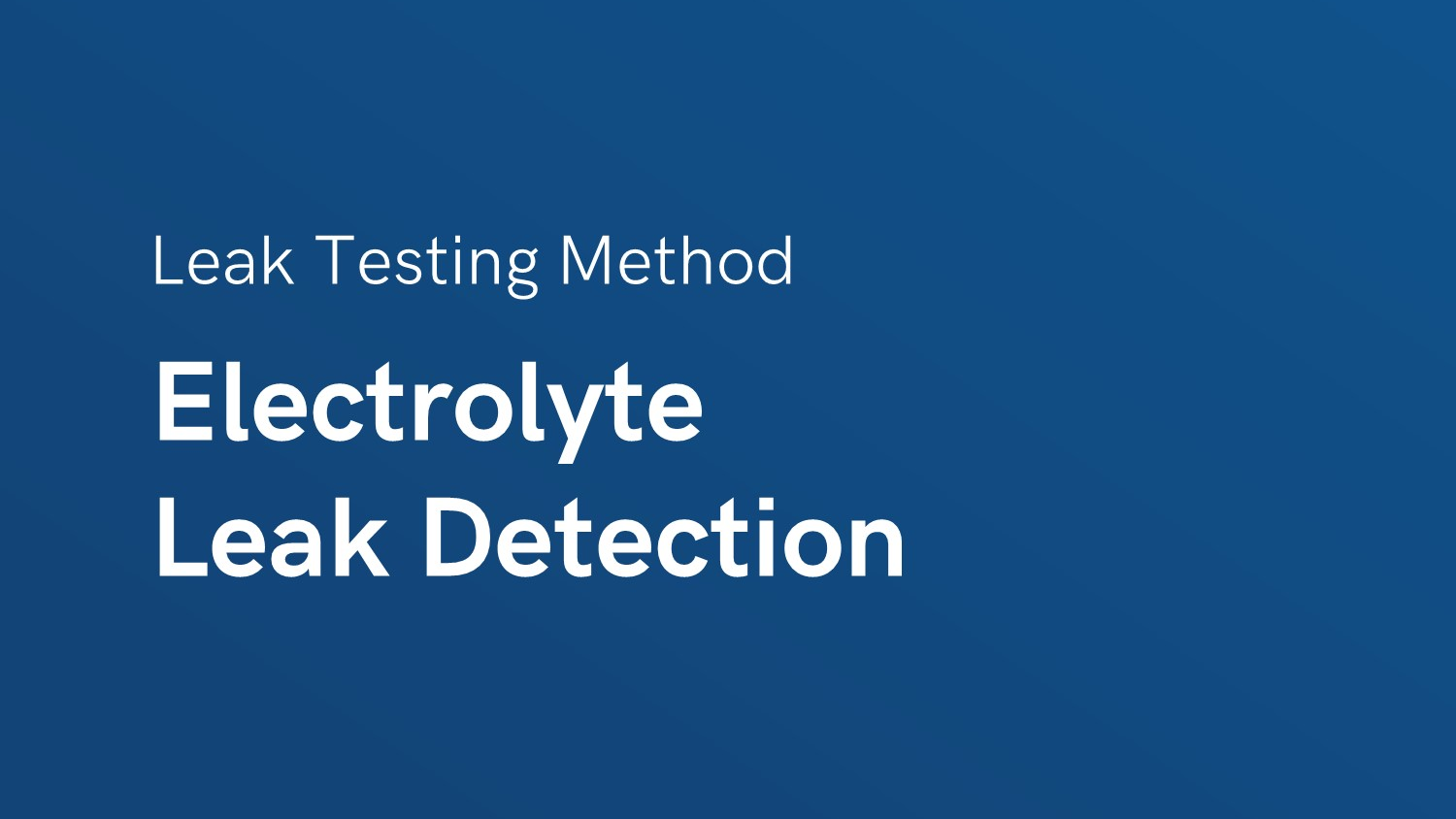 ELT3000 PLUS is based on detecting the solvents in the electrolyte as shown in the video above. It is excellent for leak testing of lithium-ion and sodium-ion batteries, as well as for super capacitors that contain liquid electrolyte. The list of detectable electrolyte solvents includes:
DMC (Dimethyl carbonate),
EMC (Ethyl methyl carbonate)
DEC (Diethyl carbonate)
PP (Propylene propionate)
EA (Ethyl, acetate)
ACN (Acetonitrile)
MP (Methylene propionate)
DME (Dimethoxyethane)
ELT3000 PLUS is very versatile and many other solvents can be detected. If you need to check for a solvent not listed here, please contact us for expert advice.
With this new leak detector generation, that combines innovation and high reliability, you can realize the advantages of an unrivalled technology that not only ensures a safe and high-quality process, but also crucially improves your throughputs.
If you want to learn more, please attend our dedicated webinar on 23 May 2023. For registration click here. You may also have a look at our product page where you can find more information and also download our product brochure or contact your local sales representative.