All-in-one leak detection
All-in-one leak detection
Detect HFCs, A2Ls, A3s and CO2 with the same tool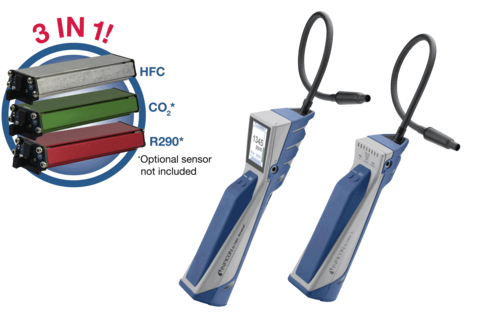 Refrigerants and regulations are constantly changing when it comes to HVAC/R service and repair. Because of this, it's now more important than ever to make sure your tools can keep up with the evolving standards. You may notice more refrigerants on the jobsite including A2L semi-flammable refrigerants, CO2 and even A3 flammable refrigerants like propane or isobutane. This means you may go from leak testing a system for R448a to a system charged with CO2. Who wants to carry a special leak detector for every refrigerant type?
With a quick sensor change, the INFICON D-TEK Stratus and D-TEK 3 are the only all-in-one infrared leak detectors that can detect any refrigerant gas and CO2 using the same tool. Easily switch the field-replaceable refrigerant sensor to the optional CO2 or flammable refrigerant sensor to fit your application. These leak detectors were designed with versatility in mind, so you can be confident you have the right tool for any job.
D-TEK Stratus is equipped with a large, easy-to-read display that provides a visual PPM readout that rises as you get closer to the leak and helps you quantify the relative size of a leak. Learn more about why D-TEK Stratus is the market's preferred leak detector here.

The award-winning D-TEK 3 offers the same accuracy and versatility for everyday maintenance and repair. This tool features an LED display with manual and auto zero modes to enhance your ability to identify a leak source quickly. Check out more features and benefits here.