IRG080
IRG080
The new standard of ionization vacuum gauge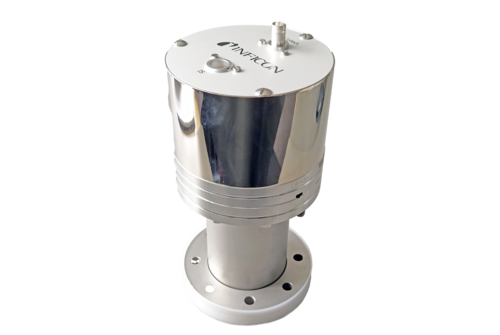 Product configurator
Gemini™ MxG5xx
Flange connection to vacuum chamber
Your configuration has been successfully sent!
The Ion Reference Gauge IRG080 is a first-of-a-kind vacuum sensor developed for precise total pressure measurement in vacuum systems. Based on an innovative concept of ionization vacuum gauge (the hot cathode emits electrons travelling on a straight path into a Faraday cup), IRG080 is suitable as reference standard in the range of 10-8 mbar to 10-4 mbar.
IRG080 offers unmatched accuracy down to 1%, predictable gas sensitivity with a very small spread, very good short-term repeatability and reproducibility. The gauge is the ideal solution for metrology and calibration. IRG080 is connected and controlled by the IRC081 display and operating unit.
Advantages
Developed for applications requiring high measurement accuracy in the high and ultra-high vacuum range
Electrode system configuration according to ISO/WD TS 6737
True pressure for all gas species thanks to predictable relative gas sensitivity with small uncertainty
Stable electron emission and lack of influence from ESD or X-ray effects
Reproducible and easy to transport
Bakeable to 165 °C (with temperature resistant cable) or up to 400 °C without connector unit
Mu-metal intermediate piece available for magnetic shielding purposes
Operating Units
Ion Reference gauge Controller IRC081
Reference Standard
Accuracy below 1% for N2
Predictable gas sensitivity, with a very small spread (<1.5%)
True total pressure measurement
Very good short-term repeatability (<0.06%) and reproducibility (<1%)
The product is used in the following markets