Rotary Feedthrough CF
Vacuum Feedthroughs & More
Rotary Feedthrough CF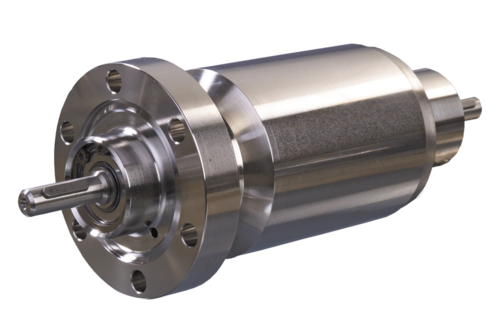 Product configurator
Gemini™ MxG5xx
Flange connection to vacuum chamber
Your configuration has been successfully sent!
INFICON's huge variety of mechanical feedthroughs offers the right device for all demanding applications, no matter if it serves e.g. in coating application chambers or in your applied research project under laboratory conditions.
The available flange designs ISO-KF / ISO-K and CF corresponds to our fitting line. All feedthroughs are suited to work in vacuum systems with leak rates up to 1 x 10-9 mbarl/s. For UHV an all metal designed feedthrough is also available.
Advantages
Bellow sealed
All-metal version
For very demanding vacuum requirements
2011/65/EU RoHS compliant
Specifications
FRU016-H
FRU040-N
FRU040-L
Vacuum connection
DN 16 CF-F
Feedthrough/seal
bellow
Shaft connection
mm
4
Transferable torque
Dynamic
N•m
0.4
Dynamic, at 300 °C
N•m
0.2
Static
N•m
0.2
Rotational speed
RPM
200
At max. torque
RPM
­
Shaft load vacuum sided
Radial force
N
10
Axial force
N
5
Service life
Revolutions
1 000 000
Scale division
degree
10
Tightness
mbar•L/s
5 x 10-11
Pressure (absolute)
1 x 10-10 mbar ... 2 bar
Operating temperature
°C
300
Bakeout temperature
°C
300
Materials exposed to process media
304L/1.4306, 304/1.4301, –/2.4360
Weight
kg
0.3
Vacuum connection
DN 40 CF-F
Feedthrough/seal
bellow
Shaft connection
mm
8
Transferable torque
4
Dynamic
N•m
2
Dynamic, at 300 °C
N•m
3
Static
N•m
1000
Rotational speed
RPM
500
At max. torque
RPM
60
Shaft load vacuum sided
20
Radial force
N
2 000 000
Axial force
N
–
Service life
Revolutions
5 x 10-11
Scale division
degree
1 x 10-10 mbar ... 2 bar
Tightness
mbar•L/s
300
Pressure (absolute)
300
Operating temperature
°C
304L/1.4306, 304/1.4301, –/2.4360
Bakeout temperature
°C
1.5
Materials exposed to process media
304L/1.4306, 304/1.4301, –/2.4360
Weight
kg
0.3
Vacuum connection
DN 40 CF-F
Feedthrough/seal
bellow
Shaft connection
mm
12
Transferable torque
10
Dynamic
N•m
2
Dynamic, at 300 °C
N•m
5
Static
N•m
500
Rotational speed
RPM
300
At max. torque
RPM
100
Shaft load vacuum sided
30
Radial force
N
1 000 000
Axial force
N
–
Service life
Revolutions
5 x 10-11
Scale division
degree
1 x 10-10 mbar ... 2 bar
Tightness
mbar•L/s
300
Pressure (absolute)
300
Operating temperature
°C
304L/1.4306, 304/1.4301, 303/1.4305
Bakeout temperature
°C
3
Materials exposed to process media
304L/1.4306, 304/1.4301, –/2.4360
Weight
kg
0.3
Download full specifications
Part Number
| | |
| --- | --- |
| FRU016-H | |
| 214-310 | FRU016-H Rotary feedthrough DN 16 CF-F |
| | |
| FRU040-L | |
| 214-314 | FRU040-L Rotary feedthrough DN 40 CF-F |
| | |
| FRU040-N | |
| 214-312 | FRU040-N Rotary feedthrough DN 40 CF-F |