Electrical Feedthrough DN40
Vacuum Feedthroughs & More
Electrical Feedthrough DN40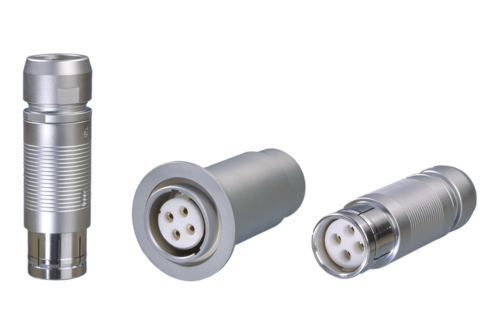 Product configurator
Gemini™ MxG5xx
Flange connection to vacuum chamber
Your configuration has been successfully sent!
INFICON offers economical priced ISO-KF flange feedthroughs which can be found in all standard vacuum applications all over the world for many years. In addition to this feedthroughs a choice of connectors for vacuum and atmosphere side of vacuum chamber is configured.
For UHV applications CF flanged feedthroughs are available in different sizes and technical specifications.
Advantages
2011/65/EU RoHS compliant
Specifications
7 Feedthroughs with ATM Connector
7 Feedthroughs with ATM & Vacuum Connector
4 Feedthroughs with ATM & Vacuum Connector
1 Feedthroughs with ATM Connector
Vacuum connection
DN 40 ISO-KF
Number of feedthroughs
7
Voltage per pole
V
380
Current per pole
A
16
Connection
Vacuum side
Vacuum side
solder connection
Atmospheric side
Atmospheric side
connector
Diameter of connecting wire
mm
1.8
Test voltage
kV/Hz
–
Pressure (absolute)
1 x 10-8 mbar ... 2.5bar
Bakeout temperature (feedthrough and connector)
°C
130
Housing
stainless steel
Insulator
PTFE/Araldite
Seal
FPM
Contact (feedthrough and connector)
gold-plated bronze
Vacuum connection
DN 40 ISO-KF
Number of feedthroughs
7
Voltage per pole
V
380
Current per pole
A
16
Connection
Vacuum side
Vacuum side
connector
Atmospheric side
Atmospheric side
connector
Diameter of connecting wire
mm
1.8
Test voltage
kV/Hz
–
Pressure (absolute)
1 x 10-8 mbar ... 2.5bar
Bakeout temperature (feedthrough and connector)
°C
130
Housing
Insulator
PTFE/Araldite
Seal
FPM
Contact (feedthrough and connector)
gold-plated bronze
Vacuum connection
DN 40 ISO-KF
Number of feedthroughs
4
Voltage per pole
V
800
Current per pole
A
16
Connection
Vacuum side
Vacuum side
connector
Atmospheric side
Atmospheric side
connector
Diameter of connecting wire
mm
2.5
Test voltage
kV/Hz
–
Pressure (absolute)
1 x 10-8 mbar ... 2.5bar
Bakeout temperature (feedthrough and connector)
°C
130
Housing
Insulator
PTFE/Araldite
Seal
FPM
Contact (feedthrough and connector)
gold-plated bronze
Vacuum connection
DN 40 ISO-KF
Number of feedthroughs
1
Voltage per pole
V
6000
Current per pole
A
25
Connection
Vacuum side
Vacuum side
bolted connection
Atmospheric side
Atmospheric side
connector
Diameter of connecting wire
mm
5
Test voltage
kV/Hz
15/50
Pressure (absolute)
1 x 10-8 mbar ... 2.5bar
Bakeout temperature (feedthrough and connector)
°C
130
Housing
Insulator
PTFE/Araldite
Seal
FPM
Contact (feedthrough and connector)
nickel-plated brass
Download full specifications