Sion™
RF Sensing Technology
Sion™
RF Detector for Plasma Arc Detection and End Point Control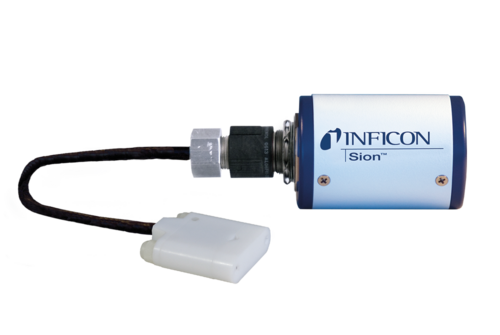 Product configurator
Gemini™ MxG5xx
Flange connection to vacuum chamber
Your configuration has been successfully sent!
Reducing Wafer Loss, Improving Yields and Increasing uptime
Arcing during plasma processing can result in target and chamber damage leading to substrate damage and particle creation. As feature sizes decrease, microelectronic devices become increasingly susceptible to arc-induced damage. Arcing can occur in any plasma assisted process such as ionized Physical Vapor Deposition (iPVD), Plasma Enhanced Chemical Vapor Deposition (PECVD) and Etch. The INFICON Sion Arc Detector provides a crucial first line of defense. Sion makes it possible to detect micro-arcs quickly and react to them before significant damage or scrap occurs. The system provides real-time detection and analysis of plasma micro-arcing events.
Sion™ RF Detector also gives you tighter control and higher yields in chemical vapor deposition (CVD) and etch processes by reliably and accurately determining the chamber clean endpoint. More accurate endpointing means lower on-wafer particle levels and more time between preventative maintenance cycles.
Providing a number of advantages over optical emission spectrometer (OES)-based controllers, Sion works with FabGuard® Integration and Analysis System to increase yield and reduce the wasted time and materials that result from chamber clean under- or over-etching.
Features
Easy retrofit to existing tool set
Non-invasive sensor installation
High-speed data collection (250 kHz)
Integrated data management with FabGuard
The product is used in the following markets