T-Guard2
Helium Leak Detector
T-Guard2
The Sensitivity of Helium Leak Detction at a Pressure-Decay System price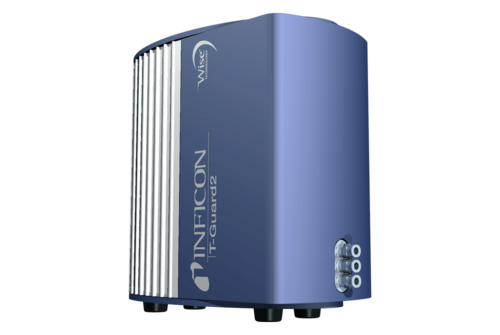 Product configurator
Gemini™ MxG5xx
Flange connection to vacuum chamber
Your configuration has been successfully sent!
INFICON T-Guard2 Leak Detection Sensor closes the gap between costly hard vacuum helium leak detection and low sensitivity leak testing methods like waterbath and pressure decay.
T-Guard2 works at atmospheric pressure, therefore there is no need for vacuum chambers and pumps. There is no faster and more cost-effective way of repeatable leak testing in the measurement range of T-Guard2.
Advantages
Low operating cost
The INFICON Wise Technology Helium sensor does not need a vacuum, turbo-pump, or maintenance. This lowers your operating costs and assure high uptimes.
No limitation of product properties
Even large, warm or humid objects, and those can not be well operated under vacuum can be leak tested
Find all leaks reliably
With INFICON Wise Technology leaks down to 1x10-6 mbar·l/s can be detected reliably
Easy to use
The intelligent Software and optional display units supply easy operation through an intuitive menu structure
Fexible Control
INFICON T-Guard2 allows a wide range of control options. You can choose between PLC, PC or optional display and Profibus.
Typical Applications
Leak detection for air conditioner components
Leak detection for components for the automotive industry
Leak detection for large, warm or humid components
Leak detection for all components where pressure decay and water bath systems can not provide sufficient sensitivity
Other markets where helium vacuum leak detection has been considered as too costly or complex
Specifications
Minimum detectable leak rate
mbar•L/s
1E-6
Measurement range
decades
5
Weight
kg
lb
6,8
15
| | |
| --- | --- |
| 540-200 | WISE Technology T-Guard2 Sensor |
| 540-201 | WISE Technology T-Guard2 Sensor Profibus |
| | |
| --- | --- |
| 551-100 | Control unit, desktop version |
| 551-101 | Display unit, rack installation |
| 551-102 | Cable 5 m for 551–100 |
| 551-103 | Connecting cable, ext. Control unit, 0.7 |
The product is used in the following markets