AP29ECO
Hydrogen Sampling Probe
AP29ECO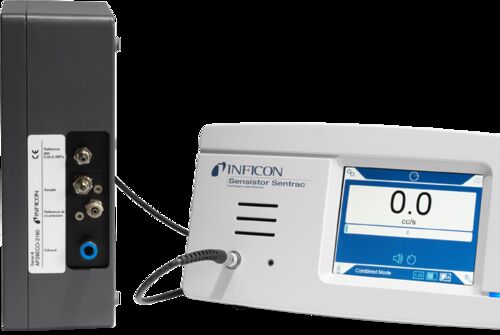 Product configurator
Gemini™ MxG5xx
Flange connection to vacuum chamber
Your configuration has been successfully sent!
AP29ECO, an accessory to Sensistor Sentrac Hydrogen Leak Detector, allows you to do automatic leak testing with hydrogen tracer gas. Examples of AP29ECO Sampling Probes techniques are integral test in accumulation chamber, clam shell test, direct point sniffing and scanning. Controlled by the Sensistor Sentrac Hydrogen Leak Detector, it draws a well-defined sample of air and passes it over the built-in hydrogen sensor. The sampling probe has an automatic purging function which can be activated before and after sampling, and when the gas concentration exceeds a set limit. It can, therefore, encounter gross leaks and still be cleared within seconds. Together with the unique properties of hydrogen tracer gas, this feature gives an unprecedented reliability of your system.

The AP29ECO is built for heavy-duty applications. Its rugged design and serviceability make it ideal for use in tough industrial environments. The sensor element can be replaced without opening the probe, and the sniffer flow function is powered by a long-life membrane pump. The pump is easy to maintain and it is only in operation when a sample is drawn. This makes the AP29ECO a cost effective and environmentally friendly alternative. The unit can be ordered with two different sniffer flows — 1 cc/s or 3 cc/s.
Features
Sniffer flow alarm
The AP29ECO is fully controlled by the Sensistor Sentrac Leak Detector
Draws a well-defined air sample to the built-in hydrogen sensor
Handles accumulation chamber tests, local enclosure tests and scanning
Suitable for hydrogen concentration monitoring
Designed for integration into automatic leak test systems
Available with two different sniffer flows – 1 cc/s or 3 cc/s
Advantages
High reliability for demanding industrial applications
For semi- or fully automatic leak testing
Easy to maintain
Easy sensor change
Overexposure protection minimizes recovery time in case of gross leaks
Automatic calibration
Typical Applications
Industry
Automotive
Aerospace
Packaging
RAC
Medical
Process
Specifications
AP29ECO Sampling Probe 3 cc/s
AP29ECO Sampling Probe 1 cc/s
| | |
| --- | --- |
| Minimum Detectable Leak Rate | 0.5 ppm H2; 3x10-5 mbarl/s or atm cc/s of 5% H2 tracer gas with standard sniffer flow |
| | |
| Dimensions (W x H x D) | 92 mm x 185 mm x 260 mm (3.6 in. x 7.3 in. x 10.2 in.) |
| | |
| Weight | 4.2 kg (9.3 lb.) |
| | |
| --- | --- |
| Minimum Detectable Leak Rate | 0.5 ppm H2; 1x10-5 mbarl/s or atm cc/s of 5% H2 tracer gas with standard sniffer flow |
| | |
| Dimensions (W x H x D) | 92 mm x 185 mm x 260 mm (3.6 in. x 7.3 in. x 10.2 in.) |
| | |
| Weight | 4.2 kg (9.3 lb.) |
| | |
| --- | --- |
| 590-036 | AP29ECO Sampling Probe, 1cc/s |
| | |
| 590-035 | AP29ECO Sampling Probe, 3cc/s |
| | |
| --- | --- |
| 590-250 | Insert Probe H65 |
| 591-420 | Bus Cable 25 pin to pin, 2 m |
| 598-330 | Sentrac External DSUB IO Adapter |
| 590-821 | Combox (incl. C21 cable 3m), to connect AP29ECO with Sensistor Sentrac Hydrogen Leak Detector |
| 590-161 | C21 Probe Cable, 3m (for Hand Probe P60, P60 Flex, P50, P50 Flex, H50, H51 and H21) |
| 590-175 | C21 Probe Cable, 6m (for Hand Probe P60, P60 Flex, P50, P50 Flex, H50, H51 and H21) |
| 590-165 | C21 Probe Cable, 9m (for Hand Probe P60, P60 Flex, P50, P50 Flex, H50, H51 and H21) |
| 590-420 | Calibration Leak Type A, 5x10E-2 mbarl/s @1bar |
| 590-421 | Calibration Leak Type B, 5x10E-3 mbarl/s @1bar |
| 590-422 | Calibration Leak Type C, 5x10E-4 mbarl/s @1bar |
The product is used in the following markets