QMG 700
Mass Spectrometers
QMG 700
Exceeding Detection Limits with Superior Stability and Refined Resolution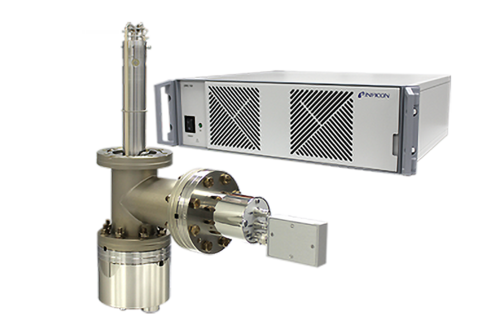 Product configurator
Gemini™ MxG5xx
Flange connection to vacuum chamber
Your configuration has been successfully sent!
Rapid advancements in semiconductor manufacturing technology rely on swift and dependable gas analysis solutions. In the fab or in the lab, select the INFICON QMG 700 Analytical Mass Spectrometer to break through detection barriers and propel your process to the next level of innovation. The QMG 700 provides unparalleled performance and adaptability in a modular design. Enhance your competitive edge with the QMG 700, and achieve a superior level of measurement capability.
Select from a wide range of ion source, mass filter, and RF power supply options, to tailor your QMG 700 to specific applications. The QMG 700 boasts more than nine decades of dynamic range and ppb detection limits, making it the ideal instrument for ultra high vacuum measurements. QMG 700 provides unit resolution across its entire mass range, and even higher resolution for low masses. The instrument is a superb option for the most challenging measurements, including isotope analyses, such as helium and deuterium separation. Control your process with the QMG 700 and rely upon its superior long-term stability to protect critical measurements.
More than forty years of analytical mass spectrometry excellence at INFICON ensure the QMG 700 is the right choice for your next gas analysis investment. For consistent accuracy and precise results, you can rely on the INFICON QMG 700 and our worldwide applications expertise.
Features
Mass range options from 1-512 amu
More than nine decades of dynamic range
Extremely fast measurement speeds: 0.125 ms/amu
MDPP < 10E-16 mbar
High resolution across entire mass range: Masses 1, 2, and 3 clearly separable in ppb range
Multiple different ion source options
Discrete or continuous dynode electron multiplier options
IO option: 8 analog inputs/outputs and 32 digital inputs/outputs
Powerful software with flexible and user friendly interface
Typical Applications
Gas discharge mass spectrometry
End point detection
Deposition material monitoring
Secondary ion mass spectrometry
Specifications
Mass Range
1-512 amu (1)
Sensor Length
441.5 mm
Rod Diameter
8 mm
Rod Material
Molybdenum
Flange
DN 63 CF-F
Detector Type
Faraday/SEV 217
Max. Operating Pressure (FC)
1 E-4 mbar
Max. Operating Pressure (EM)
1 E-5 mbar
Sensitivity
5 E-4 A/mbar
Minimum Detectable Partial Pressure
1 E-15 mbar
Resolution (adjustable)
0.3 - 7 amu
Partial Pressure Ratio
< 0.5 ppb
Max. Operating Temp. Sensor
150 °C
Max. Bakeout Temp.
23.02.2023
Max. Operating Temp. Electronics
40 °C
Measurement Speed
0.125 ms - 60 s/amu
Power Supply
100 - 240 VAC

(1) QMA 400 is available for mass ranges: 1-512 amu.
QMA 400 specifications based upon 512 amu mass range, cross beam ion source system configuration

(2) QMA 410 is available for mass ranges: 1-128 amu.
QMA 410 specifications based upon 128 amu mass range, cross beam ion source system configuration
Mass Range
1-340 amu (2)
Sensor Length
548 mm
Rod Diameter
16 mm
Rod Material
Molybdenum
Flange
DN 100 CF-F
Detector Type
Faraday/SEV 217
Max. Operating Pressure (FC)
1 E-4 mbar
Max. Operating Pressure (EM)
1 E-5 mbar
Sensitivity
1 E -3 A/mbar
Minimum Detectable Partial Pressure
5 E-16 mbar
Resolution (adjustable)
0.2 - 2.2 amu
Partial Pressure Ratio
< 0.5 ppb
Max. Operating Temp. Sensor
150 °C
Max. Bakeout Temp.
400 °C
Max. Operating Temp. Electronics
40 °C
Measurement Speed
0.125 ms - 60 s/amu
Power Supply
100 - 240 VAC

(1) QMA 400 is available for mass ranges: 1-512 amu.
QMA 400 specifications based upon 512 amu mass range, cross beam ion source system configuration

(2) QMA 410 is available for mass ranges: 1-128 amu.
QMA 410 specifications based upon 128 amu mass range, cross beam ion source system configuration
Mass Range
1-300 amu
Sensor Length
441.5 mm
Rod Diameter
8 mm
Rod Material
Stainless Steel
Flange
DN 63 CF-F
Detector Type
Faraday/SEV 217
Max. Operating Pressure (FC)
1 E-4 mbar
Max. Operating Pressure (EM)
1 E-5 mbar
Sensitivity
2 E-4 A/mbar
Minimum Detectable Partial Pressure
1 E-15 mbar
Resolution (adjustable)
0.3 - 7 amu
Partial Pressure Ratio
< 0.5 ppb
Max. Operating Temp. Sensor
150 °C
Max. Bakeout Temp.
400 °C
Max. Operating Temp. Electronics
40 °C
Measurement Speed
0.125 ms - 60 s/amu
Power Supply
100 - 240 VAC

(1) QMA 400 is available for mass ranges: 1-512 amu.
QMA 400 specifications based upon 512 amu mass range, cross beam ion source system configuration

(2) QMA 410 is available for mass ranges: 1-128 amu.
QMA 410 specifications based upon 128 amu mass range, cross beam ion source system configuration
Part Number
| | |
| --- | --- |
| 490-715 | QMA 400 with Grid Ion Source |
| 450-119 | Deckplatte kpl. DMM spez. |
| 490-601 | QMA 400 for PPM 422 standard |
| 490-700 | QMA 400 with Axial Ion Source |
| 490-701 | QMA 400 with Crossbeam |
| 490-702 | QMA 400, SEM 217, Crossbeam, Yt |
| | |
| --- | --- |
| 490-810 | QMA 410 with Axial Ion Source |
| 490-812 | QMA 410,16mm Mo,217, W, CB-GT |
| 490-817 | QMA 410, SEM 217, crossbeam, Yt |
| 490-821 | QMA 410 Quadrup.-Analysator |
| 490-830 | QMA 410 mit CB-IQ mit Magn.,SEV218 |
| | |
| --- | --- |
| 490-901 | QMA 430 mit CB-IQ, Faraday |
| 490-910 | QMA 430 with Axial-IQ, 90° SEV217 |
| 490-913 | QMA 430 with Grid Ion Source |
| 490-914 | QMA 430 grid Ion Source, vac.-annealed |
| 490-916 | QMA 430, CB-IQ without SEV217 |
| 490-917 | QMA 430 with CB Ion source, Gas Tight |
| 490-918 | QMA 430, CB Ion Source without SEV217 |
| 490-943 | QMA 430, SEM 217, Crossbeam, YT |
The product is used in the following markets