Micro GC Fusion® Gas Analyzer
Utility Monitoring
Micro GC Fusion® Gas Analyzer
Simplify and Accelerate Gas Analysis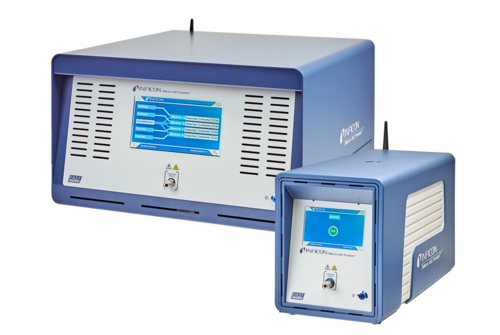 Product configurator
Gemini™ MxG5xx
Flange connection to vacuum chamber
Your configuration has been successfully sent!
Micro GC Fusion offers significant throughput gain through rapid temperature ramping and modular architecture. The transportable, lightweight chassis and web-based user interface enables simplified operation for both on-site and in-lab gas analysis.
Micro GC Fusion is a proud winner of the prestigious 2014 R&D 100 Award!!
Need application assistance?
Features
Rapid analysis, 1–3 minutes
Multiple module parallel analysis with fast temperature ramping
Fusion Auto-Sensing Technology (FAST) coupled with MEMS TCD provides 1 ppm sensitivity
Front panel display provides instrument control, analysis result and status update
License-free web-based user interface accessible from any web browser
Embedded Wi-Fi enables instrument control from computer, tablet and smart phone
Optional integrated sample conditioner provides programmable purging, sample pressure and temperature regulation
Advantages
Minimize analysis time
Maximize availability
License free access
Easy connectivity
Minimize sampling handling
Simplify on-site analysis
Typical Applications
Natural gas and extended natural gas analysis
H2S and odorant in natural gas
SO2 and H2S gas monitoring
Permanent gases and olefins in refinery gas
Syngas, fuel cell, landfill gas and biogas
Impurities in petrochemical products and specialty gases
Solvent/VOC gas monitoring
Catalyst research for alternative energy
Mud logging in oil and gas exploration
Mine gas
MyQueueGC Fusion
MyQueueGC Fusion is a small, easy to use software program that enables the operator to:
Customize the naming of runs within a sequence
Customize the naming of runs and control a sequence using a Valco valve stream selector accessory
Set up a series of sequences
Prioritize sequences
Enable passive naming of the run based on an external trigger, such as an AUX I/O trigger, or a front panel start
Export data automatically to an appending CSV file
Export data automatically as a JSON file
The software works in tandem with the Micro GC Fusion web-based user interface and can easily be installed on a Windows computer.
Looking for the latest Micro GC Fusion Softwares/ Updates?
The product is used in the following markets