Italy
Italy
Leak detection solutions and customer service in Sommacampagna (VR)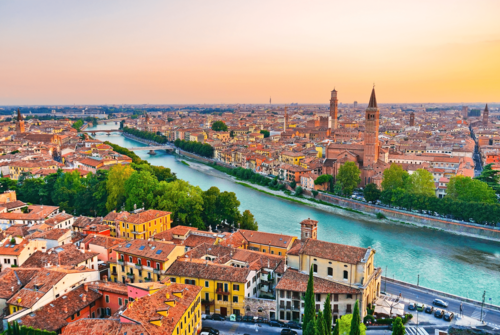 We enable customers to perform best-in-class leak detection tests every day. From our office in Sommacampagna (VR), we provide a superior customer experience supporting our Italian customers as they move through the decision-making process of which tool is best suited for their application, and the recommended level of service they will require.
By including administrative, sales and service operations into one location, we are proud to be always at our customers' side. Moreover, our strategic location, at the heart of Italy's, allows us to be easily accessible when our customers need us.
Drawing inspiration from the passion that characterizes the story of Romeo and Juliet, at INFICON we are passionate about fulfilling our customers' needs.
To pursue this ambitious goal, we employ a diverse workforce united by the strong desire to improve our customers' quality and efficiency in leak testing applications.
To succeed, we rely on our strong technical expertise and our ability to be at the forefront of innovation. We take care to nurture customer relationships and are always looking for new ways to collaborate in order to adapt to the fast changing marketplace. Over the last few years, besides our corporate culture has enabled our team to grow to better meet the booming demand of well-established markets, namely Automotive and RAC, and fast growing, high-tech markets such as Semiconductor, Thin Film Coating, Food & Packaging, and Aerospace.
Our INFICON team in Italy is composed of:
Service - able to provide customer support locally to quickly operate even onsite at the customers' plants
Sales - able to satisfy the requests of new and consolidated customers, providing technical advice and providing demonstrations and simulation experiments for each specific request
Administration - for the direct document management of our customers.
We encourage qualified, passionate and committed professionals to join us and be part of our team. As a candidate, you will have the opportunity to meet an organization that is pioneering leak detection technology development and whose people are moved by sound principles.
INFICON is committed to doing business in social and environmentally-friendly ways, as well as promoting a positive and open working environment.
Benefits at INFICON in Italy
Open, dynamic and flexible work environment, where every employee matters
The freedom to create and implement
Exciting and challenging tasks
A familiar atmosphere and a collaborative spirit make us happy to come to work. We are positive and meet everyone every day with a smile
Being committed to doing business in a social and environmentally sustainable manner, we strive to maintaining a working environment that favors the well-being of our employees and the satisfaction of our Customers.
Our location in Italy
INFICON SRL
Via Dossobuono, 48
37066 Sommacampagna
Italy
+39 045 640 2556