China
China
Locations all over in China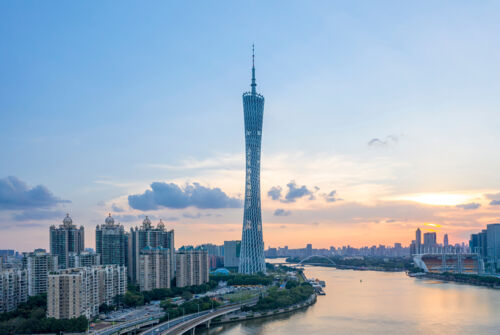 Our largest office in China is located in beautiful Guangzhou.
Guangzhou, also known as " flower city", is the captital of Guangdong Province, a national central city, a megacity, the core city of the Guangzhou metropolitan area. It is located in the south central part of Guangdong Province and the northern edge of the Pearl River Delta. Guangzhou has a subtropical monsoon climate with mild climate and significant marine climate. The city has 11 districts, with a total area of 7434.40 square kilometers, and permanent population close to 20 million.
Guangzhou is one of the first national historical and cultural cities and the birthplace of Guangfu culture.
Guangzhou has been rated as the world's first tier city by GaWC. The China Import and Export Commodities Fair held every year has attracted a large number of investors, as well as a large number of foreign enterprises and Fortune 500 enterprises.
Besides, we also have sales and service centers in Beijing, Shanghai, Chengdu, Hefei and Hongkong.
Benefits at INFICON in China
Flexible work place
Opportunities for further training and development
Exciting and challenging tasks
International Teams
Our locations in China
Guangzhou
INFICON (Guangzhou)Instruments Co., Ltd
4th Floor, Annex Building, No.188, Linhe Middle Road,
Tianhe District, Guangzhou 510610, China
Beijing
Room 1-1608, Landmark Tower, 8 North Dongsanhuan Road,
Beijing 100004, P.R.China
Shanghai
Room 1806, Shartex Plaza, 88 Zun Yi Nan Road
Shanghai 200336, P.R.China
Hongkong
Rm. 2201, 22/F., Methodist Hse.,
36 Hennessy Rd., Hong Kong
Chengdu
Room 416, Rennan Tower, 5 Nansanduan,Erhuan Road,
Chengdu,Sichuan 610041, P.R.China