PPG570
Pirani-Messgeräte
PPG570
ATM to Medium Vacuum Gauge + ATM Switch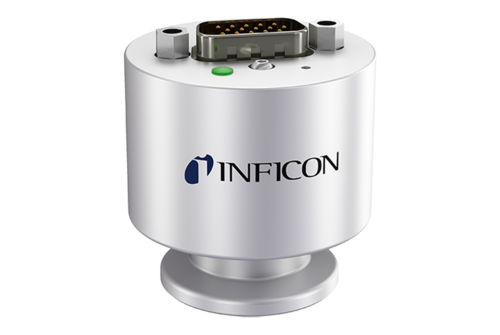 Product configurator
Gemini™ MxG5xx
Flange connection to vacuum chamber
Your configuration has been successfully sent!
Das neue INFICON Pirani Piezo-Kombinationsmessgerät (PPG570) basiert auf der fortschrittlichsten MEMS-Sensortechnologie (Microelctromechanical Systems), die auch in unserem PPG550 "ATM to Medium Vacuum" Messgerät verwendet wird.
Was das PPG570 vom PPG550 unterscheidet, ist der zusätzlich installierte ATM-Sensor, der den Einsatz des PPG570 in klassischen Load-Lock-Anwendungen ermöglicht. Zum Beispiel in der Halbleiterindustrie oder bei allen anderen Vakuumanwendungen, bei denen eine genaue Druckmessung relativ zum atmosphärischen Umgebungsdruck wichtig ist.
Die im MEMS-Verfahren miniaturisierte Pirani/Piezo-Kombinationstechnologie ermöglicht die Konstruktion eines sehr kleinen und damit platzsparenden Sensors, der es ermöglicht, die Gesamthöhe des Messgeräts sehr gering zu halten.
Neben dem Vorteil der geringen Bauhöhe bietet ein auf MEMS-Technologie basierender Pirani auch den Vorteil, im HV-Bereich tiefer und genauer zu messen als ein klassischer Pirani. In Kombination mit einem MEMS-Piezosensor, der im selben Flansch montiert ist, wird das Pirani-Messgerät zu einem echten Vakuum-Weitbereichsmessgerät, das den Messbereich weit über die üblichen 1000 mbar hinaus, auch in Richtung Atmosphäre, erweitert. Gleichzeitig ermöglicht der MEMS-Piezosensor eine gasartunabhängige Druckmessung im Bereich von 2 ... 1333 mbar. Ein weiterer Vorteil der genannten Technologien ist die erhöhte Widerstandsfähigkeit gegen Beschleunigungskräfte und Vibrationen.
Nicht zuletzt kann der neue INFICON PPG570 als direkter Ersatz für den so genannten MKS Instruments MKS901P "MicroPirani™ and Piezo Loadlock Vacuum Pressure Transducer" verwendet werden. Der PPG570 bietet dieselben Anschlüsse und Pinbelegungen, einen analogen Ausgang und ist mit dem digitalen Kommunikationsprotokoll RS232/485 kompatibel.
Vorteile
Gasartunabhängig über 2 mbar - ermöglicht sicheres Entlüften mit jedem Gasgemisch
Hohe Genauigkeit und Reproduzierbarkeit an der Atmosphäre - für zuverlässige, schnelle Atmosphärendruckmessung
Atmosphärische Umgebungsdruckmessung
Bis zu 3 Halbleiterrelais
Vielseitig in der Montageausrichtung - bietet technische Freiheit bei der Konstruktion von Geräten
Wählbares analoges Ausgangssignal für einfache Systemintegration
Digitale Schnittstellen RS232/ RS485
Kann direkt als Ersatz für den MKS901P "MicroPirani™ - und Piezo Loadlock Vacuum Pressure Transducer" eingesetzt werden.
Konformität & Normen: CE, EN, UL, CSA, RoHS
Typische Anwendungen
Halbleiter-Load-Lock-Anwendungen
Verwendung in analytischen Geräten/ Massenselektrometern
Physikalische Gasphasenabscheidung
Physikalische Abscheidung aus der Gasphase
Spezifikationen
| | | |
| --- | --- | --- |
| Measurement range (N2) | mbar | 1x10-6 … 1333 |
| | | |
| Accuracy | | |
| | | |
| 1100 ... 1333 mbar | % of reading | 0.5 |
| 800 ... 1099 mbar | % of reading | 0.25 |
| 100 ... 800 mbar | % of reading | 0.5 |
| 2 ... 99.9 mbar | % of reading | 1 |
| 1 x 10-4 ... 1.99 mbar | % of reading | 5 |
| 1 x 10-5 ... 9.99 x 10-5 mbar | % of reading | 25 |
| | | |
| Temperature compensation | °C | +10 … +50 |
| | | |
| Temperature measurement absolute accuracy | °C | +1.5 (0 … +80) |
| | | |
| Supply voltage at the gauge | V (dc) | +12 … +30 ripple max. 1 Vpp |
Spezifikationen herunterladen