Niederprofil-Dualsensor
Sensoren & Durchführungen
Niederprofil-Dualsensor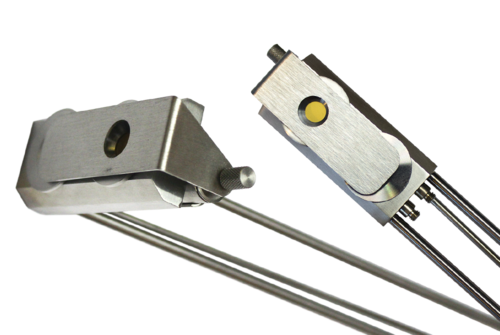 Product configurator
Gemini™ MxG5xx
Flange connection to vacuum chamber
Your configuration has been successfully sent!
Easy-Rate-Dualsensoren bieten eine einfache und kostengünstige Lösung bei QCM-Anwendungen, wenn ein Kristall möglicherweise nicht ausreicht. Ein Verschluss deckt einen zweiten Kristall ab, bis er benötigt wird, um den Prozess zu Ende zu bringen. Die Easy-Rate-Dualsensoren verwenden zwei In-vacuo-Kabel zum einfachen Austausch vor Ort.

Die kompakte Bauform des Easy-Rate-Dualsensors erfordert einen Freiraum von nur 38,1 mm (1,5 Zoll), so dass die Sensor-Verschluss-Baugruppe durch einen standardmäßigen CF40-Rohrstutzen geführt werden kann.

Easy-Rate-Dualsensoren sind außerdem in Standard- oder 90-Grad-Ausrichtung erhältlich und können für Durchführungen mit oder ohne Standardrohranschluss konfiguriert werden.
Hinweis: Easy-Rate-Dualsensoren erfordern Wasserkühlrohre mit einem Außendurchmesser von 4,8 mm (3/16 Zoll). Sie sind mit Ultra-Torr-Durchführungen nicht kompatibel und erfordern einen Rohradapter, damit sie an Standarddurchführungen mit Wasserkühlrohren mit einem Außendurchmesser von 4,8 mm (3/16 Zoll) angeschweißt werden können.
Merkmale
Dualkristalle
Hohes Preis-Leistungsverhältnis
Niederprofildesign
Inklusive Kristallverschluss
Einfache Installation
In ausheizbarer, an CF40-Durchführung angeschweißter Konfiguration erhältlich
Sensor / Feedthrough combinations available with or without bored-through tube fittings
Spezifikationen
Max. Ausheiztemperatur ohne Wasser
130° C
Max. isotherme Umgebungsbetriebstemperatur bei minimalem Wasserdurchfluss
400° C
Crystal Exchange
Front loading; shutter moves to the side for easy access to the holders
Feedthrough
2 pass water and 1 pass air 4.76 mm (0.188 in) OD with 2 microdot coaxial connections
Water Tubes
S-304, 4.76 mm (0.188 in) OD x 0.51 mm (0.020 in.) wall thickness seamless stainless steel tubing
Feedthrough Specifications-CF40 (2-3/4 in. ConFlat)
Materialien
304 stainless steel, Teflon, ceramic, beryllium nickel
Temperatur
Operational environment to 450° C with water cooling or 165° C without
Befestigung
Mates with 2 ¾ in. ConFlat type flanges with 1.375 in. I.D. min.
Spezifikationen herunterladen
Ersatzteile
| | |
| --- | --- |
| Artikelnummer | Beschreibung |
| 784-205-G1 | Crystal Retainer Assembly |
| 784-403-P1 | Crystal Finger Spring |
| 784-204-G1 | Crystal Holder Assembly |
| 784-404-P1 | Retaining Ring |
| 784-300-P1 | Crystal Holder |
| 784-405-P1 | Holder Finger Spring |
| 750-174-P2 | Koaxialkabelbuchse |
| 080-011-P3 | 0-80 X .125 GOLD PLATE SL PAN |
| 080-013 | Washer, Split Lock Stainless Steel |
| 784-206-G1 | Easy Rate Sensor Actuator Assembly |
| 784-203-G1 | Easy Rate Right Angle Dual Sensor Head |
| 784-306-P1 | Easy Rate Sensor Actuator Clamp |
| 084-054S | Split Washer #4 Stainless Steel Spare |
| 084-027 | Socket Screw |
| 784-307-P1 | Easy Rate Dual Sensor Shutter |
| 783-500-023 | In-Vacuum Sensor Cable, 10 in. |
| 783-500-024 | In-Vacuum Cable, 30 in. |
Das Produkt wird in folgenden Märkten verwendet