PERNO EN T - ACERO INOXIDABLE 304L
CF
PERNO EN T - ACERO INOXIDABLE 304L
Los conectores de calidad CF de INFICON se fabrican de acuerdo con la norma ISO 3669 y la norma TS/ ISO 3669-2 más reciente.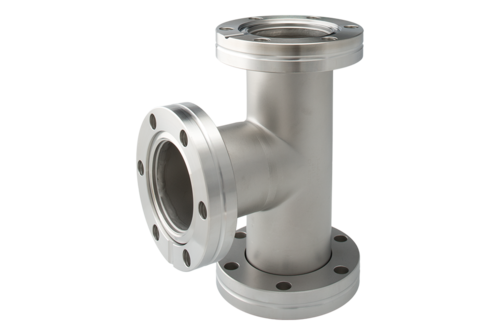 Product configurator
Gemini™ MxG5xx
Flange connection to vacuum chamber
Your configuration has been successfully sent!
INFICON CF quality fittings are manufactured according to ISO 3669 and the latest TS/ ISO 3669-2 standard. INFICON Ultra high vacuum fittings are designed for applications down to 1 x 10-12 mbar and bakeout temperatures up to 400°C.
Ventajas
Logística a escala mundial
El diseño y las medidas siguen estrictamente los estándares internacionales
El acabado de la superficie, las soldaduras y las especificaciones del material y la limpieza cumplen (o superan) los requisitos de alto vacío
De conformidad con la normativa 2011/65/EU (RoHS)
Especificaciones
| | | | | | |
| --- | --- | --- | --- | --- | --- |
| Type | Dimension A | Dimension B | Dimension C | Dimension D | Material: |
| DN 16 CF | 38 | 0.5 | 0.5 | 15 | Stainless steel 304L / 1.4306 |
| DN 40 CF | 63 | 0.5 | 0.5 | 38 | Stainless steel 304L / 1.4306 |
| DN 63 CF | 105 | 1 | 1 | 66 | Stainless steel 304L / 1.4306 |
| DN 100 CF | 135 | 1 | 1 | 100 | Stainless steel 304L / 1.4306 |
| DN 160 CF | 167 | 1.5 | 1.5 | 150 | Stainless steel 304L / 1.4306 |
Descargue aquí las especificaciones completas
Número de parte
| | | |
| --- | --- | --- |
| | Part Number | Description |
| DN 100 CF | 213-314 | T piece DN 100 CF |
| DN 16 CF | 213-311 | T-piece DN 16 CF |
| DN 160 CF | 213-315 | T-piece DN 160 CF |
| DN 40 CF | 213-312 | T-piece DN 40 CF |
| DN 63 CF | 213-313 | T-piece DN 63 CF |