薄型双传感器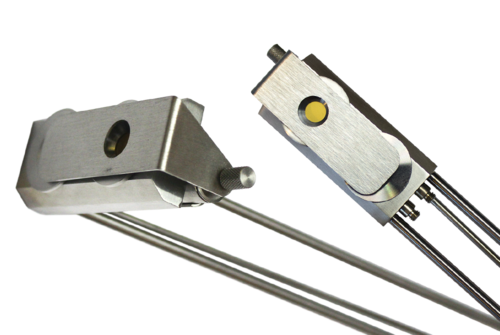 Product configurator
Gemini™ MxG5xx
Flange connection to vacuum chamber
Your configuration has been successfully sent!
经济型双传感器为一个晶体可能不够的 QCM 应用提供简单并且廉价的解决方案。闸门将覆盖第二个晶体,直到需要该晶体完成过程。经济型双传感器使用两条真空电缆以便于在现场更换。

经济型双传感器的紧凑设计仅需要 32.5 毫米(1.3 英寸)的间隙,传感器和快门组件即可穿过标准 CF40 管嘴。

经济型双传感器还可采用标准和直角方向,它们可进行适当配置以包含带有或不带标准管接头的馈入件。
备注:经济型双传感器使用 4.8 毫米(3/16 英寸)外径水冷管。 它们与配备馈入件的 Ultra-Torr 不兼容,需要管接头才能焊接到具有 4.8 毫米(3/16 英寸)外径水冷管的标准馈入件。
功能
双晶体
物有所值
薄型设计
包括晶体闸
易于安装
在焊接到 CF40 馈入件的可烘烤配置中可用
Sensor / Feedthrough combinations available with or without bored-through tube fittings
规格
无水时的最高烘烤温度
130° C
最小水流时的最高工作等温环境温度
400° C
Crystal Exchange
Front loading; shutter moves to the side for easy access to the holders
Feedthrough
2 pass water and 1 pass air 4.76 mm (0.188 in) OD with 2 microdot coaxial connections
Water Tubes
S-304, 4.76 mm (0.188 in) OD x 0.51 mm (0.020 in.) wall thickness seamless stainless steel tubing
Feedthrough Specifications-CF40 (2-3/4 in. ConFlat)
材料
304 stainless steel, Teflon, ceramic, beryllium nickel
温度
Operational environment to 450° C with water cooling or 165° C without
安装
Mates with 2 ¾ in. ConFlat type flanges with 1.375 in. I.D. min.
在此下载完整的规格
Spare Parts
| | |
| --- | --- |
| Part Number | Description |
| 784-205-G1 | Crystal Retainer Assembly |
| 784-403-P1 | Crystal Finger Spring |
| 784-204-G1 | Crystal Holder Assembly |
| 784-404-P1 | Retaining Ring |
| 784-300-P1 | Crystal Holder |
| 784-405-P1 | Holder Finger Spring |
| 750-174-P2 | Female coax |
| 080-011-P3 | SCREW 0-80 x .125 LG SLOT PAN HD SS GP |
| 080-013 | #0-80 Split washer |
| 784-206-G1 | Easy Rate Sensor Actuator Assembly |
| 784-203-G1 | Easy Rate Right Angle Dual Sensor Head |
| 784-306-P1 | Easy Rate Sensor Actuator Clamp |
| 084-054S | Split Washer #4 Stainless Steel Spare |
| 084-027 | Socket Screw |
| 784-307-P1 | Easy Rate Dual Sensor Shutter |
| 783-500-023 | In-vacuum cable, 25.4 cm (10 in.) |
| 783-500-024 | In-vacuum cable, 76.2 cm (30 in.) |