STM-2XM
Monitors
STM-2XM
2-Channel Rate/Thickness Monitor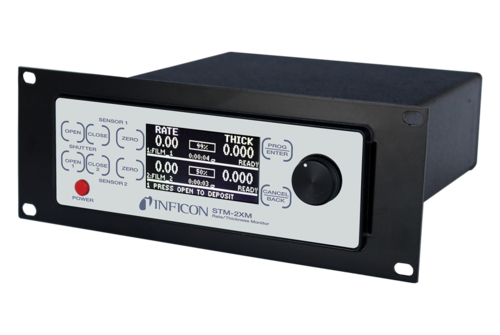 Product configurator
Gemini™ MxG5xx
Flange connection to vacuum chamber
Your configuration has been successfully sent!
STM-2XM is a two channel rate/thickness monitor that combines high accuracy with flexible programming and easy operation at an affordable price.

STM-2XM is equipped with five operation modes to accommodate processes from simple to complex. For example, use simple mode to monitor just one single sensor for the simplest process or use alloy mode for codeposition monitoring. Independent mode allows STM-2XM to function as two completely separate monitors.

Two sensor inputs allow for the use of two single or one dual quartz crystal sensor. 10 measurements are taken per second while achieving a resolution of 0.037 Å per measurement (density of 1).
Feature Packed
STM-2XM has eight programmable digital inputs, eight programmable digital outputs, and four analog outputs allowing for a level of integration usually reserved for more expensive instruments.

Programmable features include shutter delay, time/power monitoring, and rate sampling. Use all of these features to achieve the most accurate readings and the longest crystal life.

Operate and monitor STM-2XM either through the simple front panel interface or through the included LabVIEW® software. This simple software is fully functional and easy to use.
Easy to Use
STM-2XM features a high contrast LCD display and intuitive menu system. On-screen hints can be found throughout the menus for simple, guided programming and operation. The easy-to-read LCD can display in accumulated mass or thickness.
Features
Two measurement channels
Four analog outputs for rate, rate deviation, or thickness
Eight programmable digital inputs
Eight programmable digital outputs
High accuracy at 10 readings per second
Displays mass or thickness
Codeposition monitoring capabilities
Typical Applications
Single/dual sensor monitoring
Codeposition monitoring
Specifications
| | |
| --- | --- |
| Sensor inputs | 2 |
| | |
| Measurement frequency range | 6.0 to 5.0 MHz (fixed) |
| | |
| Thickness and rate resolution/measurement | ±0.037 Å @ tooling/density = 100/1, fundamental frequency = 6 MHz |
| | |
| Stored films | 15 |
| | |
| Digital inputs | 8 |
| | |
| Digital outputs | 8 |
Accessories
Part Numbers
Accessories
Accessories and Replacement Parts
Consumables
| | |
| --- | --- |
| Part Number | Description |
| STM-2XM-G1 | STM-2XM Monitor, US power cord |
| STM-2XM-G2 | STM-2XM Monitor, European power cord |
| | |
| --- | --- |
| Part Number | Description |
| 783-014-009 | Dual rack mount kit - Mounts two STM-2XM instruments in a 48.3 cm (19 in.) rack |
| Oscillator kits | (Includes oscillator and cables) |
| 783-500-109-10 | 3 m (10 ft.) Oscillator Kit - includes OSC-100 oscillator, 15.2 cm (6 in.) BNC cable, and 3 m (10 ft.) BNC cable |
| 783-500-109-25 | 7.6 m (25 ft.) Oscillator Kit - includes OSC-100 oscillator, 15.2 cm (6 in.) BNC cable, and 7.6 m (25 ft.) BNC cable |
| 783-500-109-50 | 15.2 m (50 ft.) Oscillator Kit - includes OSC-100 oscillator, 15.2 cm (6 in.) BNC cable, and 15.2 m (50 ft.) BNC cable |
| 783-500-109-75 | 22.8 m (75 ft.) Oscillator Kit - includes OSC-100 oscillator, 15.2 cm (6 in.) BNC cable, and 22.8 m (75 ft.) BNC cable |
| Oscillator Only | (No cables included) |
| 783-500-013-G1 | OSC-100 oscillator only (no cables) |
| Cables | |
| 782-902-011 | 15.2 cm (6 in.) BNC cable, male/female |
| 782-902-012-10 | 3 m (10 ft.) BNC cable, male/male |
| 782-902-012-25 | 7.6 m (25 ft.) BNC cable, male/male |
| 782-902-012-50 | 15.2 m (50 ft.) BNC cable, male/male |
| 782-902-012-75 | 22.8 m (75 ft.) BNC cable, male/male |
The product is used in the following markets